Puppies Behind Bars A NEW LEASH ON LIFE – Founded by Dr.Thomas Lane teaches prison inmates to raise service dogs for wounded war veterans.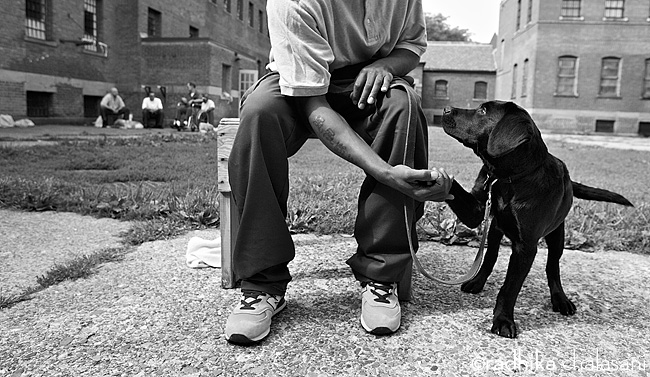 PUPPIES BEHIND BARS
Puppies Behind Bars (PBB) teaches prison inmates to raise service dogs for wounded war veterans and explosive-detection canines for law enforcement. The puppies live in prison with inmates from the age of eight weeks to 24 months. Once trained, the service dogs are placed, free of charge, with returning veterans from Iraq and Afghanistan.
The dogs learn special commands to help mitigate the effects of post-traumatic stress disorder (PTSD) and TBI (traumatic brain injury). Since 2008, the organization has paired 66 service dogs with wounded veterans in 26 states, and trained more than 350 explosive-detection dogs to work with law enforcement agencies around the country.
 PUPPIES BEHIND BARS A NEW LEASH ON LIFE
How PBB Got Started
Puppies Behind Bars (PBB) was started in Gainesville, Florida by a veterinarian named Dr. Thomas Lane. Dr. Lane started the first prison/guide dog program in the country.
Dr. Lane began with three prisons where his program originally existed. He spoke with inmates, prison staff, and with the people who ran the program in those prisons and came away with ideas about what worked really well and what might change if he were to start his own program.  Armed with this new information and ideas, Lane next went up to Albany to meet with the Commissioner of the Department of Correctional Services, to ask if he might be able to place puppies in the system . Doctor Lane was pleased that Commissioner Glenn Goord believe in rehabilitation and education of the inmates in New York State prisons, but he, himself, had a yellow Labrador retriever . Great minds think alike, exactly the breed Dr. Lane wanted to use for Puppies Behind Bars.
Puppies Behind Bars started in the Bedford Hills Correctional Facility for Women – New York's only maximum-security prison for women – with classes commencing the first week in October. Two puppies entered the program seven weeks later and by January 1998, they had five Labrador retriever puppies living in the prison, being nurtured, loved, and trained by ten female inmates. This puppy army raised and trained by inmates society had given up on have now cared for veterans and help protect over a million global citizens . Talk about a movement . Amanda Mills Los Angeles  Life 101 
In the beginning PBB was teaching the dogs basic obedience and socializing them to the world-at-large, getting them ready to go into formal training at guide dog schools. The dogs were with the women for approximately one year. Never in Lane's wildest imagination did he imagine that Puppies Behind Bars would turn into anything but a program where that raised guide dog puppies. 
The terrorist attacks of September 11, 2001 changed everything.  As a New Yorker Lane lived through the attacks and saw the extraordinary work law enforcement agencies did to keep the city and country safe, there was no real way to thank them except to start raising explosive detection canines (EDC's) who could help them do their jobs. May 2002, Puppy Behind Bars expanded into raising EDC's, the first pups entered the Edna Mahan Correctional Facility in New Jersey in June of that year. Lane is proud to say, PBB has raised almost 400 EDC's. PBB dogs have done everything from sweeping  both democratic and republican presidential conventions. Pups Behind Bars have marched up Pennsylvania Avenue during presidential inaugurations. PBB dogs have checked Super Bowl stadiums before fans arrived. Sadly the PBB Army was on hand the aftermath of the Boston Marathon bombings.  PBB explosive detection canines work all over this country, and at U.S. Embassies abroad, to try to keep us all safe.
From 2002  PPB Inmates have raised both guide dogs and EDC's. In 2006 in response to the number of men and women coming home wounded from Iraq and Afghanistan, the board of directors and Dr. Lane decided to stop raising guide dogs and instead start raising service dogs PBB would donate to the men and women who fought in those wars.  Lane states, " It was a steep learning curve for us".  Not only did they become responsible for all aspects of the dogs' training but the team decided to find, train, and pair the wounded service members with their dogs. Simply stated PBB decided to take full responsiblity for all aspects of the dogs' training and their future lives with service members. PBB Inmates teach their dogs over 90 life saving and life changing commands .
Lane says they made a lot of mistakes in the early years of service dog training. Team PBB was up for the challenge and willing to learn from those mistakes and ready to reset and improve their methods. The inmates were now preparing their dogs for a life of service. So far they have raised over 400 EDC and service dogs. The team at Puppies Behind Bars believe fully that PBB dogs are the best. PBB team members and inmates take enormous pride in the dogs that they donate to wounded war veterans. The group takes enormous pride in the training that they give those veterans. Since 2008, PBB started bringing the vets into prison so they can be trained directly by the inmates who are raising the dogs, and they take enormous pride in the follow-up we do with their vets and dogs for the life of the dogs.
SERVICE DOGS FOR VETERANS RETURNING HOME FROM IRAQ AND AFGHANISTAN
Dog Tags: Service Dogs for Those Who've Served Us – Established by Puppies Behind Bars (PBB) in 2006 to provide service dogs to combat veterans returning home from Iraq (OIF) and Afghanistan (OEF) who have suffered a physical injury, traumatic brain injury (TBI) or exhibit post-traumatic stress disorder
(PTSD).
APPLY FOR A SERVICE DOG – HERE
Puppies Behind Bars believe that dogs can change lives. PBB dogs can change the lives of prison inmates who have built walls around their emotions in order to survive in prison.  PBB dogs can change the lives of law enforcement agents who are looking for hidden explosives and know that the noses on their canine companions are the surest ways to find something, and they can change the lives of wounded war veterans for whom, in many cases, war has come to feel normal.
Coming home for many vets suffering from PTSD had felt very scary but now with the help of the inmates and the puppies life has become more manageable and joyful for those that fought for our freedom. Happy Memorial Day – And thank you to those that keep us safe and grace to the inmates and dogs that provide comfort to our women and men in service.-  Amanda Mills 
SUPPORT THEIR MISSION-  HERE 
SHOP FOR A GOOD CAUSE  AMLA VIBE  STARS STRIPES LUCITE EVENING CLUTCH
PRISON DOGS Documentary
"A story of love, loss, and redemption, PRISON DOGS focuses on the impact of a unique dog training program that gives two of the most marginalized populations in our society — prison inmates and veterans — a second chance."
From 2011 to 2014, G2P2 Films followed a group of Puppies Behind Bars ,puppy-trainers at the Fishkill Correctional Facility from the arrival of their puppies at 8 weeks of age through to the dogs' pairing with war veterans. Their efforts resulted in moving documentary, PRISON DOGS.
Following a sold-out premiere at Tribeca Film Festival and screenings at film festivals across the US and Canada, PRISON DOGS is now available on iTunes, Amazon, Google Play!
A story of love, loss, and redemption, PRISON DOGS focuses on the impact of a unique dog-training program that gives two of the most marginalized populations in our society — prison inmates and veterans — a second chance.
Read more about the film at    PrisonDogsFilm.com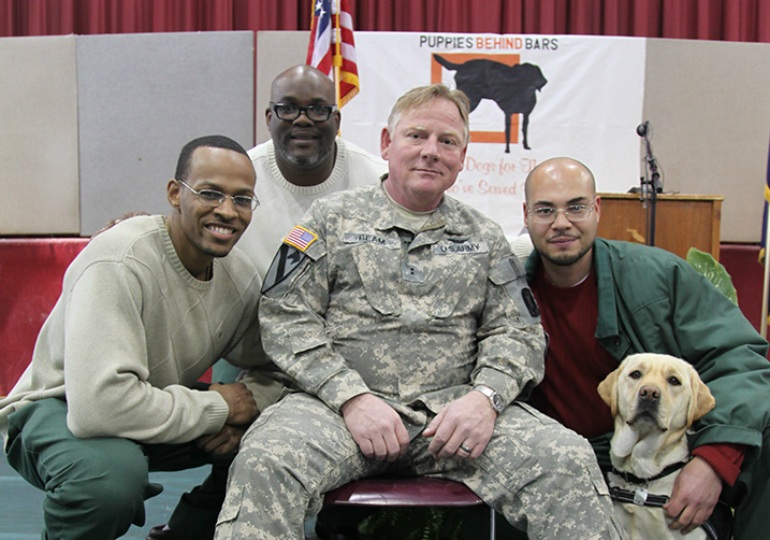 PUPPIES BEHIND BARS –  BOOKS
"I believe in redemption for all souls." – Amanda Mills Los Angeles