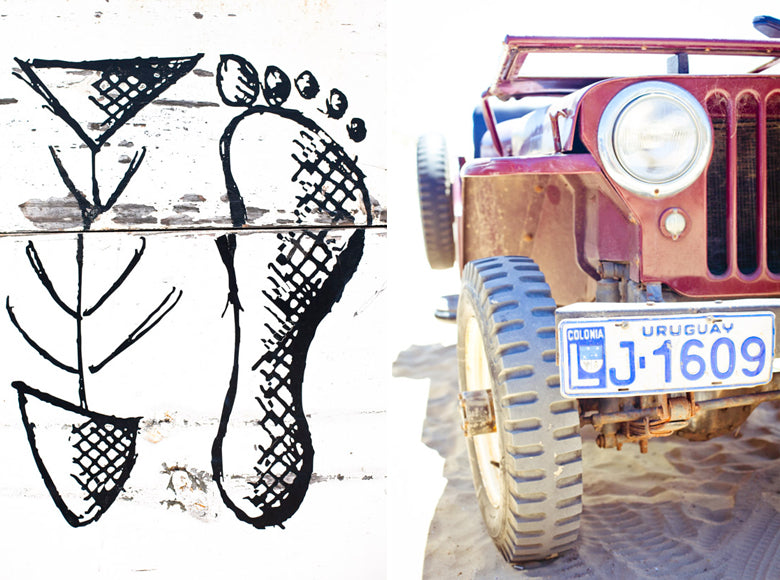 Chic Uruguay Beaches for New Years Travel
Chic Uruguay Beaches for New Years Travel – The "season" starts around the beginning of December pack your bags for this chic low key travel destination
Best Beaches in URUGUAY for New Years Travel The "season" starts around the beginning of December, and, as the holidays approach, the village's population swells with artists, royalty, actors and entrepreneurs, from Paris, Buenos Aires, Sao Paolo, New York, Miami, LA and Barcelona.
South America's most exclusive luxury vacation enclave- URUGUAY
The chic international in crowd transforms the coastline from Punta del Este to Jose Ignacio into South America's most exclusive, low key luxury vacation enclave. The best known haute-spot is Parador La Huella, one of the world's greatest beach restaurants; great atmosphere, teeming with beautiful people and hosted by a charismatic staff and kitchen that know what a great beach restaurant should be. Think St Tropez !
Stay L'Auberge
Punta's most distinguished hotel, where locals converge at six o'clock to indulge in decadently sweet waffles with dulce de leche. Reservations
Punta Del Este, Uruguay
Some call this chic beach area "The Hamptons of Buenos Aires" is the easy shorthand for Punta del Este, a reference to the fact that well-off Porteños started building their summer retreats here a century ago. But we prefer the "St. Barth of South America," as this sunny, sandy sliver of Uruguayan coast is now also a magnet for Brazilians, drawn by the safety, plus a smattering of international jet-setters. It's also more casual than most millionaires' playground.The town that has lent its name to the whole coast, Punta has grown into a city,  that retains a slightly suburban salty charm and is internationally known for its good restaurants, night clubs, shops, marina and golf course are easily reached from the other nearby beach spots should the need arise. The airport, the gateway to the coast, is located here.
Beach-hop in La Barra, Punta's trendiest neighborhood. Among the most popular stretches of sand are Montoya (preferred by surfers), and Bikini and Manantiales, dotted with toned, tanned bodies. At around four o'clock, follow the locals to Jose Ignacio Beach, where D.J.'s set up tiki torches for "chill-out" sessions in the sand.
Buy a hand-woven wool shawl from Manos del Uruguay, one of several local-designer boutiques on glitzy Avenida Gorlero. Down the street at the Hippie Market, sift through handmade jewelry, textiles, and baskets to find the perfect mate—a bulbous goblet made for sipping yerba maté, a strong tea as ubiquitous in Uruguay as Starbucks lattes are in Manhattan. The souvenir doubles as an objet for your coffee table back home.
Brava Beach in José Ignacio is the home of Hotel Posada Paradiso. The dirt roads are narrow, the Porsches wide, and there are too many drivers anxiously vying for a spot. After all, everyone's eager to check out the scene unfolding by the shore: models in micro bikinis, wealthy Americans trying hard not to stare, European bon vivants staring unabashedly, and Argentine beauties blowing air kisses every which way.

 

Watch the sunset over Jose Ignacio Beach. Grab a cold Quilmes (the favored Argentine beer), lay your blanket close to the shore (far from the D.J.'s), and enjoy Punta's most popular spectator sport.
Best Beaches in URUGUAY for New Years Travel
JOSE IGNACIO, URUGUAY
At first sight of this small waterfront village has changed little over the past decade. For much of the year, the sandy streets of the former fishing village on Uruguay's Atlantic coast are silent and un-trodden, the avant-garde designer houses half-hidden behind modest fishing shacks, and tumbledown cottages shuttered and empty. Even its grassy central plaza is surrounded by beautiful  beds of lavender.
Described as one of the hippest places on the planet on New Year's, José Ignacio, along with Trancoso in Northeast Brazil, can make a strong claim for being the hottest place in South America to ring in the New Year. First impressions of José Ignacio, the pueblo, is that it looks like a film set and this feeling is only heightened by the glamorous extras that throng the streets, cafes and the two beaches, the Mansa and the Brava.
Nestled in sand dunes overlooking an endless beach, the tables and bar at Parador La Huella are packed from the time it opens at midday until it closes sometime in the early hours. The menu is perfect for the beach – grilled brotola (a substantial white-fish that gets hauled from the ocean in front of the restaurant), crispy-thin pizzas, oven-charred baby squid, a sushi bar and, of course, the best steaks in the world – are highlights on a menu that otherwise changes daily.  The service is snappy and informal. Prices are fair even in high season, the coffee reaches the table piping hot and the rosé is served icy cold. If only all beach bars were made this way! The only price to pay is the wait for a table in the high season, as the secret is out about this part of the coast.
In the high season when the Porsches and SUV's clog the sandy streets, there are still good down-to-earth options available. Manolo's, the world's most glamorous butcher's shop, sells huge milanesa sandwiches to bikini-clad beauties. Further up the street, a little supermarket does a brisk trade in iced champagne, empanadas, and freshly baked bread. Despite the increasing hype and consent comparisons to Ibiza or the Hamptons, Marbella or St Tropez beaches in URUGUAY have not sold out nor lost its soul.
Casapueblo , Punta Ballena
Garzon was featured in the New York Times list of 52 destinations to visit in 2016
PUEBLO GARZON
Garzon was featured in the New York Times list of 52 destinations to visit in 2016 .Located a short drive from the fashionable beach village of Jose Ignacio, the village itself is set in gently rolling hills and unspoiled countryside, and the sleepy hamlet seems like a throwback in time, world away from the New Years party scene. It's here that South America's best-known chef, Francis Mallmann, has chosen to locate his latest restaurant venture as part of a charming 5-bedroom country hotel which has been wildly praised from all corners. This acclaimed restaurant is a pleasant 5-minute stroll across the palm-lined plaza which, in itself, is a lovely place to linger with a drink or a book on one of its shaded benches. Garzon is often toted in the press as having a rugged feel much like Ibiza . The surrounding countryside has been likened to a South American take on Tuscany, but, with the development of the Garzon Bodega & Winery, it reminds me of Napa. This luxury yet rural landscape offers superb restaurants in the village. The beaches, restaurants, glamour and buzz of José Ignacio is just 25 minutes away and can be visited as often as guests desire.
Garzón is becoming a wine and food destination
The catalyst for all this development ? Francis Mallmann, Argentina's most renowned chef, who opened a restaurant and five-room hotel on the village plaza in 2004. Garzón, a former railway ghost town, still has a population of fewer than 200 people, but it's fast becoming a multi-faceted destination. Beyond everything you can find at Bodega Garzón, Colinas de Garzón's new cheese and wine bar and panadería, and Lucia Soria's Lucifer restaurant, ensure you won't have a bad meal.
Stay: Francis Mallmann's five-room Hotel Garzón has just undergone a complete renovation, and his restaurant next door is all about the grill.
Shop: Alium is the coolest boutique in town. Owners Carolyn Prevett and Mariano Piñeyrúa design the merino wool blankets and cow's hide thermoses (to store hot water for maté) themselves, and the rest of the collection ranges from James Pearse dress shirts to colorful gaucho pants—bombachas.
Eat: Along with Mallmann's Restaurant Garzón, Lucifer is another great option, by chef Lucia Soria, who worked with Mallmann for years. It's also worth making the drive to José Ignacio for a meal at Parador La Huella, every local's favorite beach restaurant. The food here pairs wonderfully with Bodega Garzón's wines.
AMLA TIP

Don't arrive before 12pm, via nothing in Punta del Este gets going before noon. Don't shy away from going solo, whether it's a safety or shy-thing. This is not Brazil, so crime is pretty much non-existent except in Montevideo and downtown Punta del Este. Bars are great meeting grounds for adventurous solo-types, providing you stack-up to the competition of sexy locals on hand.
Bikini Beach
Between La Barra and Manantiales, this is where the young, beautiful, toned and tanned hang out. This chic trendy beach with a great atmosphere is also home to the fashion events that take place each season. The "It Girls", hipsters and artist all call this one of the Best Beaches in URUGUAY.
This is down to Uruguay herself, the most down-to-earth, least pretentious country in the region, whose greatest asset is her people. It is true that this coast has the feel of a previous era when the world was a simpler place: the endless, under-developed coastline; empty beaches by day; all coupled with the fact that it's still not that easy to get to from anywhere else. But what it is most of all, its essence, is that it this little corner of South America still has a style that is all of its own that rubs its magic dust on everyone who visits.
Whats to wear-  Best Beaches in URUGUAY for New Years Travel
#shopAMLA 
Luxury Beach Wear Available Now !