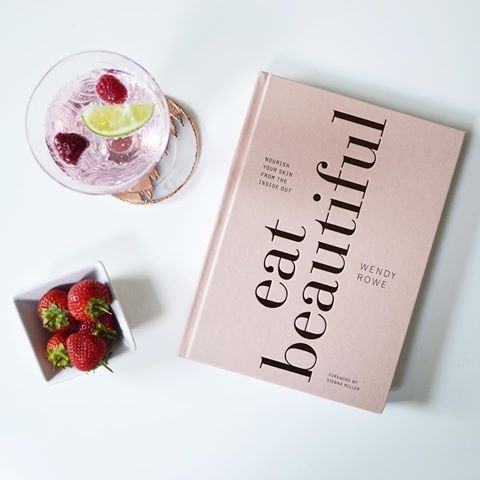 Eat Beautiful Wendy Rowe Beautiful Skin Recipes
Eat Beautiful Wendy Rowe Beautiful Skin Recipes this book contains beauty tips and easy yummy recipes designed to feed your skin .

EAT BEAUTIFUL WENDY ROWE BEAUTIFUL SKIN RECIPES
Nourish your skin from the inside out             By Wendy Rowe – Published by Ebury Press – Available Now
Eat Beautiful By Wendy Rowe  Care for your body from the inside out with this cookbook that highlights ingredients and recipes designed to make your skin glow.
"I work with people at the highest level within their field, who have to look their absolute best every day, so learning how to achieve great skin has become a big part of my life. This book allows me to share this knowledge with you in a way that's simple and gorgeous and easy to make part of your everyday, with a few laughs along the way. " –Wendy Rowe
Eat Beautiful By Wendy Rowe has more than 20 years of experience as a makeup artist and beauty consultant, Wendy Rowe's approach is uncomplicated and holistic. In Eat Beautiful, she details how specific ingredients feed your skin, offering breakdowns of the vitamins and nutrients they provide. They include:
Pomegranate: The Elixir of Youth packed with Vitamin C, which stimulates collagen production to keep skin looking taut, young, and radiant.
Spinach: The Free-Radical Fighter whose iron moves your blood, helping to repair your skin cells.
Chili Peppers: The Circulation Booster famous for its capsaicin, which reduces blood pressure and improves circulation by encouraging blood vessels to relax and dilate, therefore acting as an anti-inflammatory.
Natural Red Wine: The Youth Potion featuring a powerful anti-ageing antioxidant that slows the grown of acne-causing bacteria and fights disease-causing free radicals.
World-renowned beauty and make-up expert Wendy Rowe knows skin inside out. In this refreshing beauty book, Wendy will teach you how to keep your skin healthy and let your inner and outer beauty shine.
Rowe's recipes showcase these essential foods to help target specific skin problems and alleviate common complaints. She even provides specific advice for what to incorporate or avoid depending on skin type.
Eat Beautiful – AMLA Book Club – Super Girls Women Who Inspire
Eat Beautiful gives tips and suggestions on how to pamper yourself with recipes for homemade masks, scrubs, mists, cleansers, and toners, as well as an informative section for troubleshooting those confidence-sapping skin problems. Organized into the four seasons, you can dip in and out of this stunning cookbook, or follow it as a plan. Either way, it ensures beautiful, radiant skin all year round.
Eat Beautiful By Wendy Rowe Beautiful Skin Recipes – More About Wendy –Here