Living a life of Gratitude and Giving -AMLA
Living a life of Gratitude and Giving -AMLA-When I first began building the Amanda Mills Los Angeles brand, I was inspired by the power of the human spirit 
Living a life of Gratitude and Giving -AMLA – When I first began building the Amanda Mills Los Angelesbrand, I was inspired by the power of the human spirit to overcome insurmountable odds and the collective power we embody when we work together for a common goal.
Live a Life of Gratitude and Giving Travel light, live light, spread the light, be the light. — Yogi Bhajan
This simple concept of caring for our global neighbours was made crystal clear for me when I traveled to Africa during a particularly rough time in my life. While journeying around the continent, it was a stop in Rwanda that helped reshape my perspective.
Inspired by Rwanda 
That eye-opening experience was made possible by the Ubushobozi Project, a non-profit, vocational skills training organization dedicated to empowering and educating Rwandan women with skills like sewing, weaving and crocheting to end the poverty cycle.  It was then that I saw the fashion industry and clothing production as a means to a better life for women all around the world.
 

 

From there, I ventured home and began establishing Amanda Mills Los Angeles, a globally conscious brand.
Building our globally conscious brand was much easier than I thought it would be. I thought we would struggle to find cruelty-free brands and socially responsible retailers, but to my pleasant surprise, there were so many already out there.
    Living a life of Gratitude and Giving -AMLA
The next logical step after partnering with companies and brands that share the AMLA vision was to continue to support organizations that are empowering people, especially women and children.
 

"I will hold your heart more tenderly than my own."

 

AMLA
Aside from supporting the Ubushobozi Project and their phenomenal work, we began supporting other organizations that are steadfast in their causes, such as H.E.A.R.T (Helping Ease Abuse Related Trauma).  This violence prevention initiative helps abuse victims escape violence and begin life anew. TThe Elton John Foundation, The Carousel of Hope Ball,Wine Women & Shoes Aspen, The Orange Show and The Museum of Fine Art Houston,Texas.and many other global and local charities  supporting women and children living on the margins as well as LGBT rights. We also fund local citizens on the front lines making a difference saving animals and proudly support The Wounded Warriors Project.
Sponsoring animal shelters, charities and organizations was especially important to me. Growing up on a ranch in Texas has made me particularly close to animals and it's an honour for AMLA to be affiliated with animal safety and protection initiatives today.
The Eastwood Ranch Foundation Animal Welfare and Rescue is one of them. This non-profit animal-focused organization rescues domestic animals from high kill shelters and also supports vetted local rescues with the costs associated with housing animals until they find a forever home.
Gorilla Doctors  & Dian Fossey's Gorilla Fund are other initiative that we are especially proud to associate ourselves with, which is an African-based charity that is devoted to saving the mountain and eastern lowland gorilla species.  As more animals, including gorillas are added to the endangered species list, we edge closer to losing these animals forever. Gorilla Doctors is working to protect and save these precious animals, one gorilla at a time.One day I predict I will be living in Africa spearheading the cause protecting The Congolese and The Rwandan Mountain Gorillas donating my latter years totally to the work of saving animals and protecting the beautiful people of those nations.
Living a life of Gratitude and Giving –AMLA
WE DONATE 100% OF MONEY MADE FROM THE UBUSHOBOZI PROJECT BAGS BACK TO THE GIRLS NOT A DIME GOES TO OUR COMPANY . SHOP UBUSHOBOZI – HERE
In addition to using the Amanda Mills Los Angeles brand to foster good around the world, Yoga has played an important role in influencing my world view. The words of some of the world's most beloved Yogis have helped me through some of my darkest times and have helped push me to find my true purpose.
I leave you with one of my favourite quotes from the renowned Yogi Bhajan, "The ideal purpose of your life is that you are grateful – great and full—that you are alive and you enjoy it."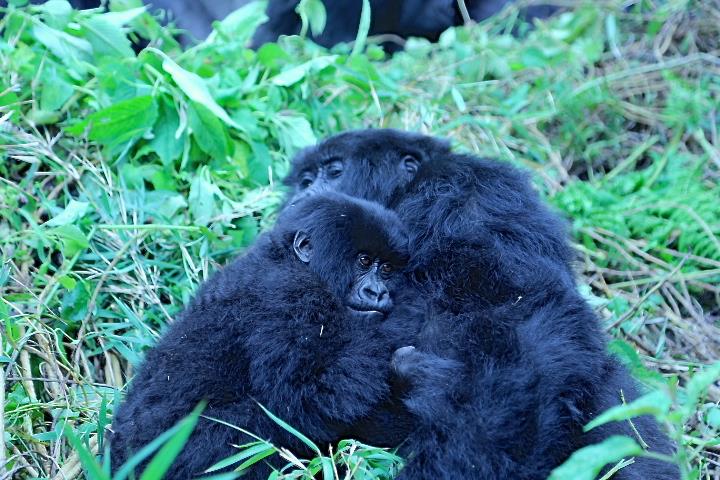 Photos from Africa – AMLA – Portraits of Amanda by SCOTT BYRNE & DAN STEINBERG